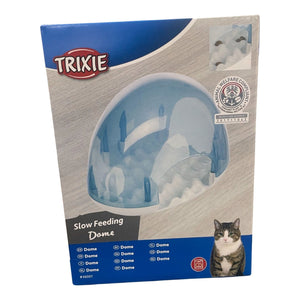 Wie kan zich nog inhouden als alles zo lekker smaakt! Als jouw kat behoort tot de katten die de neiging hebben om bij de maaltijd te schrokken, is de Trixie Slow Feeding voerbak misschien wel het juiste 'servies' voor haar. Dankzij de 
speciale constructie met meerdere voerkamers
 bevordert de voerbak 
een langzamere voeropname,

 
wat onder andere kan voorkomen dat je kat na het eten vaak moet braken.
De Trixie Slow Feeding voerbak is gemaakt 
van robuust kunststof

 
en blinkt uit met onderhoudsvriendelijke eigenschappen. Je kunt hem eenvoudig met de hand of in de vaatwasser reinigen. De onderzijde van de voerbak is van rubber, zodat hij tijdens het eten 
niet verschuift.

 
De voerbak voor katten is geschikt voor alle soorten voer: natvoer, droogvoer of snacks, alles kan erin.
Trixie Slow Feeding voerbak in één oogopslag:
Rechthoekige anti-schrok voerbak voor katten
Langzame voeropname:

 

kan schrokken voorkomen en het risico op braken verminderen
Optimaal voor katten:

 

extra platte afwerking beschermt de snorharen
Geschikt voor alle soorten voer:

 

droogvoer, natvoer & snacks
Rubberen onderkant: voorkomt dat de voerbak tijdens het eten verschuift
Eenvoudig schoon te maken: met de hand of in de vaatwasser
Materiaal:

 

kunststof
Afmetingen:

Totale afmetingen: L 21 x B 14 x H 4 cm
Afstand ribbels: ca. 2 cm

Capaciteit:

 

250 ml
Kleur:

 

wit/blauw