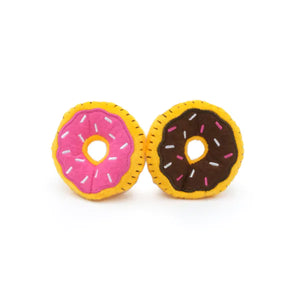 DONUT WORRY, BE HAPPY !
Inspired by our iconic ZippyPaws® Donutz dog toys, the ZippyClaws® Donutz toys really are the cat's meow! Each Donutz cat toy features a classic Donutz "flavor" topping with embroidered sprinkles, stitched detailing on the sides, and comes filled entirely with potent catnip. Once your cat sinks their teeth and claws into these sweet treats, they'll keep coming back for more!

ZippyClaws® Donutz catnip toys are a great way to get your cat excited about playing. One whiff of the fragrant herb is usually enough to transport your cat to their happy place, causing them to flip, rub, chew, kick, paw, and roll around in kitty bliss. Keep in mind that 1 in 3 cats will have no sensitivity to catnip, and all cats lack the sensitivity until they reach 3 to 6 months of age.

This set includes 2 ZippyClaws® Donutz (1 chocolate and 1 strawberry).
Catnip:

 

2g per toy

Toy size (each):

 

3.25 x 3.25 x 0.5 inch, or 8,5 x 8,5 x 1,5 cm
Attention: there's no warranty on toys!