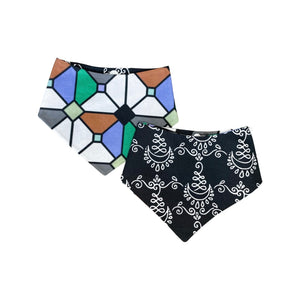 THE PERFECT COMBI !!
Our bandanas are made using 100% quality cotton. They fasten around your dogs neck using poppas, these are safe and will come apart when needed but are secure for everyday use. 
Care: Machine wash at 30 degrees on a gentle cycle or hand wash, dry flat, iron covering the bandana with a dishcloth.
Dog bandanas are a fun accessory, dogs should not be left alone whilst wearing them. Please check bandanas regularly for any signs of wear and tear.

Size Chart:
XXS adjustable between neck size 25 cm - 33 cm (10 cm length)
XS adjustable between neck size 26 cm - 36 cm (11 cm length)
S adjustable between neck size 28 cm - 40 cm (12 cm length)

M adjustable between size 30 cm - 44 cm (13 cm length)
L adjustable between neck size 32 cm - 48 cm (14 cm length)

XL adjustable between neck size
Please Note:

Pattern placement will vary slightly between each handmade item

The poppas are thight in the beginning, so do not pull at the fabric, but near the poppas