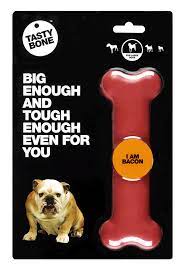 WORK HARD, CHEW HARDER !!
Tasty Bone only use human consumption grade flavours with no animal content, salt, sugar, additives or preservatives. Only the finest quality materials are used to manufacture tough and tasty chew, treat and play toys that dog's love worldwide. Now that's what we call tail waggingly good.
TastyBone is:

almost indestructible for adult dogs

helps to fight plaque & tartar due to the rough surface

the rough surfaces forms during chewing

scrapings (no larger than a grain of rice) that are released and possibly swallowed, will come out naturally

attractive taste that is retained throughout its life
Sizes:
Toy: 11 centimeters
Small: 15 centimeters
Large: 18 centimeters
ATTENTION: once the product has become so small that it can be swallowed, it must be replaced.