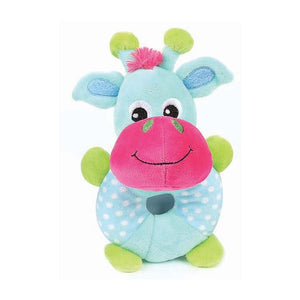 WORK HARD, CUDDLE HARDER !
The Plush Play Ring Cow Assorted 21 x 13 x 8 cm puppy toys have been specially developed for puppies and small dogs. This cute cow is made of soft plush with a cute face. Made in pastel colors that fit your little four-legged friend completely! Due to the shape of the ring and the compact size, the play ring is perfect for nibbling on and playing with.
Note: is delivered assorted, no color choice possible!
- Adorable toys for small dogs and puppies
- Made of wonderfully soft plush
- In nice pastel colours
- The shape and size make it ideal for playing, biting and cuddling

Dimensions: 21x13x8 cm
Attention: there's no warranty toys